There are so many things I want to write. I'm not angry; I'm disappointed. No, I'm angry, too. To a lesser degree, "I told you so." Instead, I will let this quick-and-dirty photoshop creation speak for me:
Good on David Poile and all of the Predators management for handling this situation quickly and decisively. I hope that the Boys in Gold -- the ones who are taking the WCS seriously and the ones who have been patiently waiting in the wings -- will be motivated by the latest trip of the Siberian Express to Scottsdale, Arizona and will lift the team game to a new level in Game 3 -- for I fear that, as goes Game 3, so goes the WCS series. Let's not get out-Predatored, because that's exactly what Phoenix is doing to us.
Also, here are some fake stats, since Dirk likes stats: The overall Delta ratio of points (goals plus assists) for the subvariegated goal scoring of each of A. Kostitsyn and A. Radulov when under the influence of alcohol shows a direct proportion of interlinear combinalities vis-a-vis scoring chances. That is, as an example, Radulov scores approximately 1 PPG with a 0.00 BAC yet 0.3 PPG with a BAC of greater than 0.01. Further, Radulov has shown that it is more likely, statistically, with a BAC > 0.01 to lose control of the puck and throw it back wildly to the blue-line or to randomly stop skating altogether on the back-check. While Kostitsyn's numbers are similar, only Radulov will smash his stick over the goal once the opposing team has scored by skating around Radulov's limp, bloated body -- and then, at a remarkable 23.4% rate (substantially higher than the NHL average of 1.3%).
Okay. I feel a little bit better now. But I also feel compelled to add a faux time-stamp to this internet nugget (original at: http://jesgolbez.blogspot.com/2007/05/players-partying-preds-on-prowl.html) in the spirit of Because It's The Cup: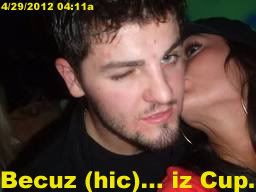 I'll stop now. This has been healing. C'mon, Boys... including you two. It matters. It really matters. And, as for you two -- if you don't do it for the Preds, do it for your next contract, whether here or abroad.
In case it's unclear, this entire post is satire and sarcasm, and nothing in it is based on any fact or statistic, other than the fact that I am profoundly disappointed in these two players' personal decisions based on recent news reports. Also, the Russian mafia should not kill me. I really like a lot of Russian players. A lot. And Vodka. Vodka is awesome. A lot.