This should be a busy week for us here at OtF, as the training camp previews and player projections keep rolling in. I'll also have more later today on that Italian interview with Alexander Radulov that I think you'll enjoy. But for now, the Breakfast Links!
After the jump we've got the proper way for a Predators fans to greet visitors to their home, a look at the man who has primed Anders Lindback for a run at a Nashville goaltending job, a review of EA Sports' NHL 11
, and a whole lot more...
Preds Item of the Day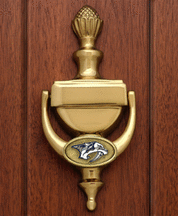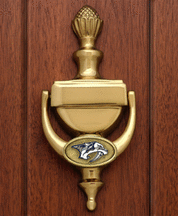 Hey, nice knockers, Preds fan! Yup, you can buy 'em (affiliate link).
Predators News
Preds On The Glass: POTG Radio Tonight with Joe Yerdon and Monday Highlights
Buddy's morning links includes his take that David Legwand should have found a spot on Mt. Puckmore. I know many feel this way, and my thinking here was that while he's been around for a long time, I don't see Leggy as having reached anything like the pinnacle of success that Tomas Vokoun has. David Poile, Barry Trotz, Vokoun and Shea Weber are adjudged by most observers to be among the very best at what they do, while Legwand has been good, not great, during his long tenure with the Preds.
Predators store at nhl.com features some curious items - Nashville Predators Examiner
Jim Diamond goes a-diggin' in the bargain bin...
"Tarvis" skeppar i väg fjärde spelaren till NHL - www.st.nu
Run this one through the Google Translator for a profile of Anders Lindback's goaltending coach, who has already helped a few other goalies making the jump to the NHL.
CARRIE U. POST-NUPS WAR - National Enquirer
Some tabloid (think of it as the Eklund version of your local newspaper) says that Carrie Underwood and Mike Fisher are having a disagreement over where to live. I guess he won't be coming to Nashville after all?
The Curious Case of Martin Erat | Hockey Independent
David compares Erat to the 30-goal scorers around the league, and recommends that he shoot the puck more often. That's easier said than done, however, and since Marty just set his career high with shot on goal last season with 168, I wouldn't expect that after 8 NHL seasons he's suddenly going to ramp up those numbers.
NHL 11 Demo Review | Section 303
Codey takes the latest from EA Sports for a test drive...
Fanwanking Nashville Hockey/2010-11 Edition Part One: A Brief Introduction | The Hockey Writers
Jas starts looking ahead to the upcoming season.
Around the NHL
Road trip! Stalking the Stanley Cup as Adam Burish hits Madison - Puck Daddy
The Blackhawks plugger celebrated with the Cup in Madison, Wisconsin, with Blake Geofrrion hanging around the scene.
If Imitation is the Most Sincere Form of Flattery... - Pension Plan Puppets
A big kerfuffle broke out on Friday when the Toronto Sun used a translation at PPP of an article from a Czech site about Tomas Kaberle. The Sun refused to cite the blog, and when called out for it, continued to make an increasingly bad case as to why they shouldn't have to. It's simple, really - if they translated the thing themselves, that would be one thing, but instead they lifted the work of a PPP member and called it their own.
Offensive Zone Faceoffs and Eliminating Icing on the PP - Behind The Net
Examining the question of whether enforcing icing on penalty killers would lead to a major boost in power play scoring.
KHL legalizes and regulates fighting - KHL
Remember how during the Cold War we were worried about the Missile Gap? Well, I guess the Russians are trying to close the Goon Gap now...
Twitter now the place for NHL tough guys to plan fights - Puck Daddy
I know we're sick of "staged fights", but this is actually pretty funny.
Young Men on the Draw - The Copper & Blue
The kids tend to get schooled on the faceoff dot, but learn over time, writes Scott Reynolds.
To keep up with all of our coverage of the Nashville Predators, you can subscribe to the RSS feed, follow us on Twitter (@Forechecker, @predatweeter & @SLakePreds), or catch the site on Facebook. You can also email me at the.forechecker@gmail.com.