Front Page
BONUS: 2018-2019 Player Reviews: Anthony Richard
Richard only spent one game in Nashville, but we take a look at his season anyway.
If anyone here expects me to give a fair assessment of seven minutes of hockey then I can't help you. Anthony Richard skated in his first NHL game at the beginning of December in place of an ailing Nick Bonino. He skated for 7 minutes and 22 seconds, finished with a 38.46% Corsi rating, and was on the ice for one goal against.
It was an unceremonious debut for the 22-year-old prospect who hopes to challenge for a full-time roster spot soon enough. But, luckily for us, Richard contributed plenty at the AHL level last season. While these player reviews are intended for NHL production, our sample size is nowhere near ample size, so much of my analysis below will be focused on Richard's time in Milwaukee.
Season in Review
In 73 games for the Admirals, Richard racked up 24 goals and 38 primary points why peppering opposing goalies with 153 shots—good for second on the team; seven of those goals came on the special teams units, including one shorthanded.
He graded out as one of Milwaukee's core-four of efficient point producers (unsurprising seeing as he led the team in scoring), notching 0.5205 primary points per game.
In my end-of-season model (after some fine-tuning), Richard's 2018-19 season graded out well among the pack of the organization's wingers, ranking him fourth behind Eeli Tolvanen, Yakov Trenin, and Josh Wilkins. Ultimately it was his age and probability to make the NHL and negative goals-for rate relative to his teammates that hindered his output. But, regardless, the 2018-19 campaign for Richard was nothing short of successful in Milwaukee, and your first NHL call-up isn't a bad hook to hang your hat on either.
Best Moment
Since I will be focusing on his time with Milwaukee, Richard's best moment of the season is likely his first career hat trick on January 22. It was a dominant win for the Admirals where nearly everything was firing on all cylinders; Richard tallied three goals and four points leading the way in a 7 - 3 win.
Worst Moment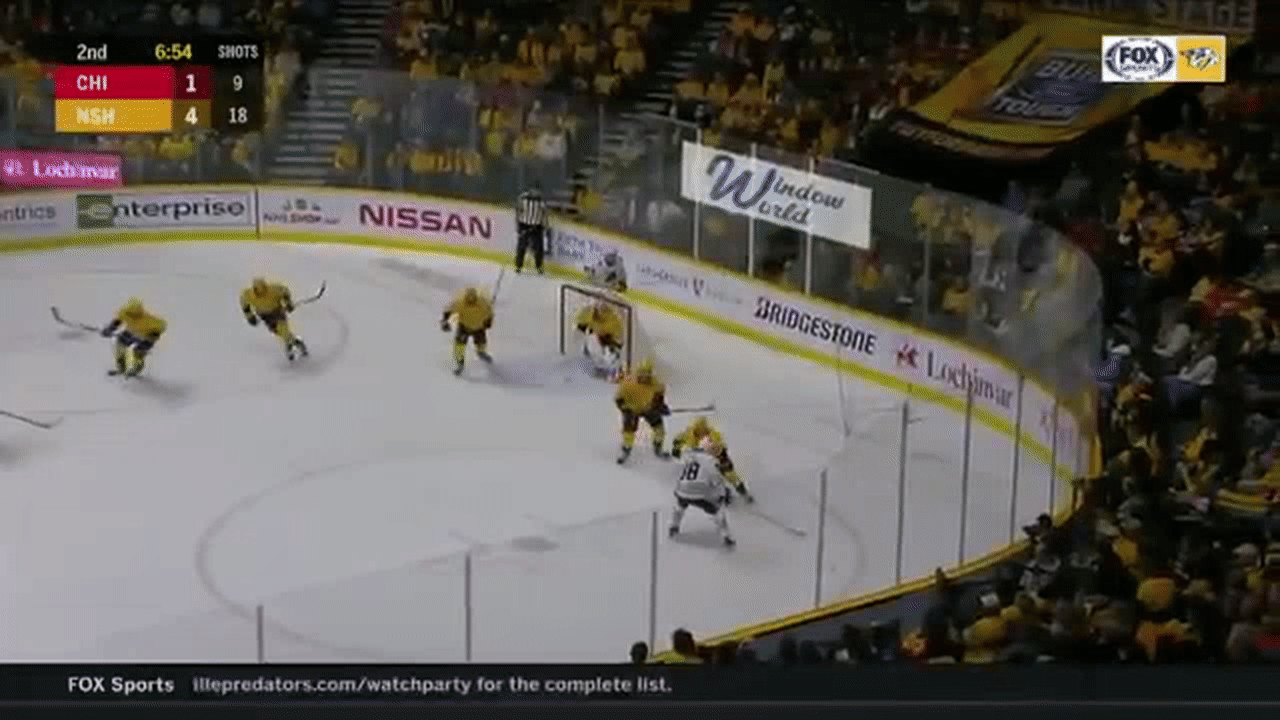 The one notable play Richard was on the ice for in Nashville happened to be a goal against in a 5-2 win over Chicago. I'm not too keen on pinning this one entirely on the 2015 fourth-round draft pick: he makes an okay play to clear the zone but ends up turning over possession, and he's then caught as the last man standing as Artem Anisimov fires into an open net. Better awareness is in order, but so was less shoddy defensive play from the blueliners.
2019-20 Outlook
Richard feels like a veteran at this point, but he's still just 22 years old and likely entering his fourth full season in the AHL. Due to the logjam of bottom-six forwards in Nashville, it's unlikely he makes the opening night roster, but I expect him to reign on as Milwaukee's scoring leader in 2019-20.
"Si je joue comme j'ai joué l'an dernier, et si je joue à la hauteur de mon talent, ils n'auront pas le choix de me garder. Par contre, je suis encore jeune alors je vais être patient."
In a recent interview with Jonathan Cossette, Richard touched on his goals for the upcoming season, saying, "J'ai des objectifs assez élevés pour cette saison, dont jouer plus de matchs. J'aimerais être celui qu'on rappelle lorsqu'il y a des blessés. Je veux arriver préparé au camp et espérer causer une surprise. Je suis quand même réaliste aussi, car il y a beaucoup de joueurs sous contrat à un volet à Nashville...Si je joue comme j'ai joué l'an dernier, et si je joue à la hauteur de mon talent, ils n'auront pas le choix de me garder. Par contre, je suis encore jeune alors je vais être patient."
If you don't read French, I'll give you a quick summary: Richard wants to play more NHL games this season and be considered as the first call-up option; he's realistic about the number of forwards under contract in Nashville but wants to surprise and maybe force the organization's hand.
In my piece on breakout candidates for next season, I touched on Richard and comparable U23 players in the AHL:
Richard has kept decent pace considering he's one of the lowest-drafted players on this list and his seven special-teams goals do not register in the chart above. But, it's clear, if he's afforded a whole season in Milwaukee that he should have another gear to hit; I think the 60-point threshold is reasonable.
Final Grade
A
Richard's time in Nashville this past season was negligible, but he did everything asked of him in Milwaukee, leading the team in scoring and pushing for more attention from the parent club. Due to my inability to properly grade seven minutes of ice time, I took his season in the AHL into account, too.
Fan Grade
How would you grade Anthony Richard's season in Nashville?
---
All statistics are courtesy of eliteprospects.com and corsica.hockey.