Front Page
2020 NHL Entry Draft Profile: Kasper Puutio
The Finnish defender has headed across the pond to the WHL this season.
The 2018-19 season was the best to date for On The Forecheck's NHL Entry Draft coverage; throughout the year, I pored over hundreds of hours of game footage to put together a comprehensive 93-player ranking, several pieces detailing the best options available for Nashville at each pick, and a complete review of their eight-player draft class.
However, I didn't share most of my work until the end of the season. With the 2019-20 season upon us, and as my prospect coverage expands, I will be sharing regular profiles of players eligible for the 2020 NHL Entry Draft next June.
I'm hoping to put together one or two of these each month to complement my regular coverage of Nashville's pipeline, mid-season and end-of-season draft rankings, and analysis of international junior tournaments.
There is no particular method to the players I've picked and the list may likely change as the season goes on, but these are all prospects who have piqued my interest for one reason or another.
To kick off this series, I've analyzed the play of Finnish defender Kasper Puutio.
---
Kasper Puutio - D
Swift Current Broncos [WHL] - 17 - Vaasa, FIN
The 17-year-old Finnish defender grew up in the Karpat program, culminating in his first season at the Jr. A SM-liiga level in 2018-19. At the highest level of junior hockey in Finland, Puutio suited up 31 times for Karpat, recording one goal and four total points as the team from Oulu captured a U20 championship.
Puutio also remained at the Jr. B level for ten games last season, scoring four goals and recording over a point per game.
In June, the Swift Current Broncos selected Puutio first overall at the 2019 CHL Import Draft and signed him to a Standard Player Agreement in July. In one game with the Broncos, Puutio recorded his first WHL point.
Puutio also has an impressive international resume, playing six games for Finland at the World Hockey U17 Challenge last year and recording four assists. In August, Puutio was a top performer for the Finns at the Hlinka Gretzky Cup, recording three assists in three games.
---
Puutio's Scouting Report
| STRENGTHS | WEAKNESSES |
| --- | --- |
| Has an excellent, well-controlled shot (specifically his slap shot) | Plays with an active stick which is good but can lead him to overcommit at times |
| Plays with a well-developed skating stride that uses crossovers well | Can be average with his lateral quickness |
| Does well keeping possession to the perimeter of the zone | Unsurprisingly is still learning not to rush into zone transition decisions |
Skating on Finland's top pair at the 2019 Hlinka Gretzky Cup, Puutio's game was tested well against some of the top players eligible for the 2020 NHL Entry Draft.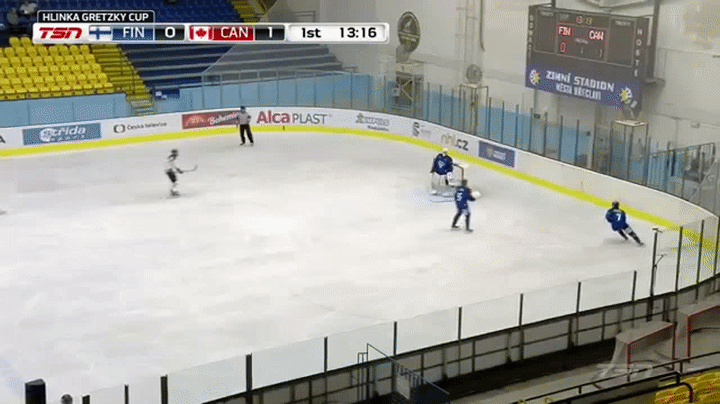 In the play above, Puutio (#7 in blue) faces mild pressure when retrieving the puck behind his own net. He has a solid first pass, but I think he rushes this one a little bit; what I see is the potential for a reverse to his partner instead. As a result he turns the puck over. But, as the clip progresses, you'll notice the job he does keeping Canadian possession limited to the corner and he ultimately helps clear the zone with his good positioning.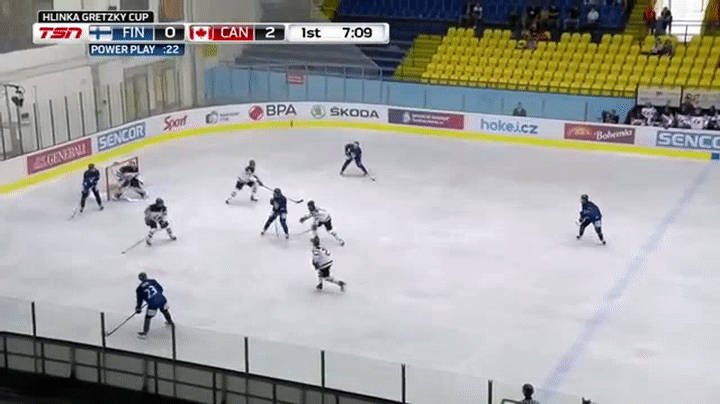 In this clip, Puutio is the point man on Finland's power play as it falls victim to a well-executed Canadian penalty kill. He has trouble finding the end of open passing lanes when the puck is on the half-wall, but I'll chalk that up more to the Canadians' positioning. He's consistently active with his footwork and uses his stick and skates well, getting off two shot attempts: both blocked but the second leads to a loose puck in a high-danger area.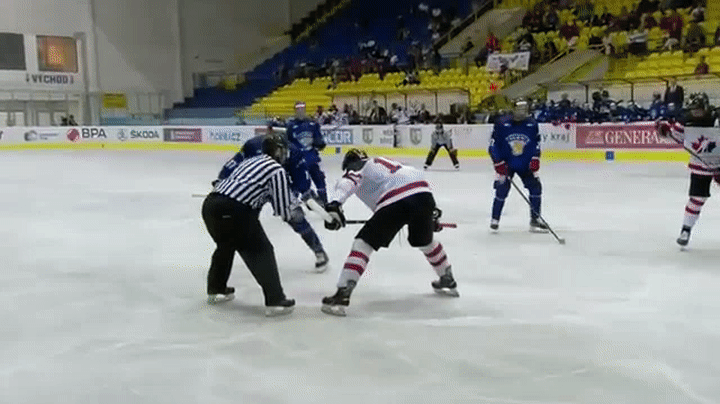 Above is an even better display of his quick, accurate slap shot.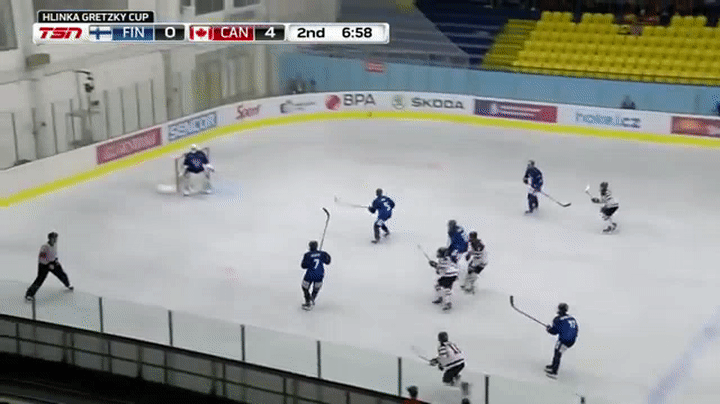 This is a simple sequence from Puutio, but I really like some of the details of his game. He maintains good movement and positioning throughout Canadian possession, then pivots well to retrieve the puck. As he circles the back of the net, he does a quick check to survey his options, which are limited. The two forwards on the other side of the zone don't find space well, so he rules them out and notices the gap the Canadian defender has widened ahead of the third forward before dishing him the puck.
---
Expected Pick Range
Colin Cudmore (@CudmoreColin) over at silversevensens.com has done remarkable work compiling draft rankings and establishing an 'Expected Pick Range' from a variety of different sources. You can read about his methodology here.
Essentially, the average of the pick range listed for players is used to create a draft value derived from Michael Schuckers' work on draft pick work (read here).
My rankings were incorporated into this list for the 2019 NHL Entry Draft, and I will be using Cudmore's work again in place of my currently non-existent 2020 NHL Entry Draft rankings.
Puutio's Expected Pick Range: #32 to #75 — 2nd or 3rd round
I generally agree with this; I would tab him as a late second-round pick for now. But a successful season in Swift Current could move the Finn up firmly into the #30 to #40 range.
---
All statistics are courtesy of eliteprospects.com.